Reading Time:
4
minutes
The racial tension in our country is distressing and heart-numbing. I hesitated to speak to anyone about it for fear of my words sounding trite and appearing impotent. When I learned of the shootings of Keith Scott and Terence Crutcher, I offered a prayer to our Father. When my son called me asking me to help him make sense of the shootings, I offered a prayer to our good, good Father.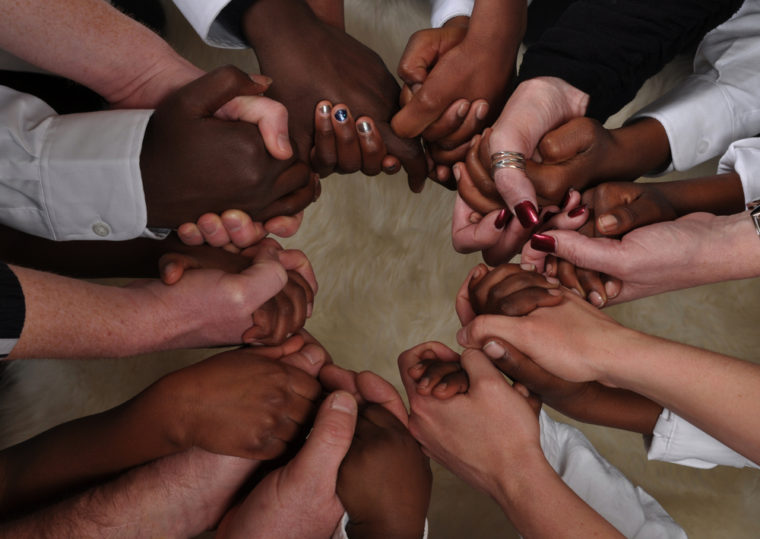 Today, O God, as we look at our world – protests in Charlotte and Tulsa in particular – we sing a song of sorrow and mourning to you. We grieve the loss of life – brown, white and blue – in every city. As a result of the racial tension in our world, Lord, we sit with mothers who have lost sons and daughters. Father, we sit with wives who have lost husbands. We sit with communities who have lost jewels of potential. Today, O God, as we look at our world, we sing a song of sorrow and mourning to you. Therefore, hear our prayer, O Lord.
As the mothers did in Ramah, we raise our voices with mourning and great weeping. Mothers, fathers, and entire communities grieve the loss of their children, refusing to be comforted. Hear our prayer, Lord. Let our cry for help come to you. So, please do not hide your face from our distress, anger, and confusion. Therefore, turn your ear to us when we call on you. Turn our mourning into singing and our grief into gladness.
First, by the power of your word, break the evil bonds of racism, prejudice, and discrimination in our world – starting in my heart. Make us true peacemakers, not peace-breakers and peace-fakers. Next, help us to see that resolution comes through renunciation – renunciation of pride, superiority, fear, anger, prejudice, and hatred.
Consequently, destroy our biases against people who are different from us. So, we give you permission to demolish the Strongholds and Paradigms of prejudice with power. Let the demolition begin in our hearts.
Uproot the stubborn weeds of anger and fear.
Break the yoke of superiority and inferiority.
Smash the yoke of false assumptions.
Pulverize the yoke of incorrectly assumed hostility.
Demolish the yoke of misunderstood motives.
Dismantle the yoke of prejudicial judgment.
You, O, Lord, are not prejudiced or partial. May we love and forgive as much as you do. Please, make us like you. Therefore, judge those who practice unnecessary and unjustified ill-treatment of others, through false accusation and inflicting pain and punishment. Punish those who practice unfair and cruel treatment toward individuals. Discipline those who prevent others from having the same opportunities, freedom, and rights of others.
Help us to recognize that all injustice has its origin in Satan, works through our sinful human heart, and shows itself in every sphere of life. Thus, remind us that all our prejudice, racism, sexism, discrimination, hatred, and oppression deserve and merit your wrath. Thank you, God, for placing your wrath on Jesus. Through him, you dismantle walls of hostility, hatred, and division. As a result of the death and resurrection, manifest the power of the gospel in our day.
So, speak, O, Lord! In the beginning, you spoke and brought order out of chaos. We are begging you to do it again. Quell the chaos of anger and fear. Calm the storm of the racial division in our world. Lord, speak peace to the tempest and the winds and waves of injustice in our communities. God, when you speak, chaos flees. Lord, when you speak, waves nap. When you speak, you crush super powers. Your word is powerful. So, today, we are asking you to speak. Speak and demolish evil systems, paradigms, and structures of prejudice.
As our hearts lay in ruins, we do not lose hope. But, we believe you can speak and rebuild them. Though there is a breach in the wall of racial harmony, we do not grieve as men and women without hope. But, we believe you can speak and restore the bricks of trust. Our hearts are fragmented. Torn asunder. Devoid of hope that things will ever get better. Our hearts and communities are smoldering from the fires of hatred. But, we know you can simply speak and return chaos to order.
So, Lord, resuscitate our hope. Make whole the fragments of our shattered vision of unity and justice. Breathe new life into our optimism. Bandage and heal our ruptured dreams of a better tomorrow. Help us believe those better days are ahead. Teach each of us to think, speak, and behave justly. May we be your lights in a dark world. May we proclaim your righteousness, but may we also be the embodiment of your justice! As we proclaim your freedom, please use us to be genuine instruments of freedom.
Lord, protect our police officers from people who are motivated by hatred and a desire to do them harm. As they carry out their duties to serve and protect the public, give them a manifestation of your peace. Lord, at the same time, protect the community from police officers who are blinded by prejudice with power. May the oath they took be a reality.
Therefore, Lord, give us all clean hands and a pure heart. We will not trust in the idols our ethnicities and have confidence in the false gods of our nationalism. Our prayer, O Lord, is that you help us to desire to do your will and have your commands in our hearts. So, as we interact with others, train us to think and speak about whatever is true, noble, right, pure, lovely, admirable, excellent, and praiseworthy of those people. So, keep our hearts and mouths free from racial perversity and corruption. Furthermore, make us active agents of righteousness and justice. Make us instruments of your peace.
Finally, let the words of our mouths and the meditations of our hearts be pleasing in your sight, our Rock, and Redeemer. Bless us and keep us, cause your face to shine upon us, be gracious to us and give us your peace.
So, friends, you can click on the links below and read related posts.
How Long, O Lord, Must We Look At Violence?
Violence Erupts Again, In Baton Rouge
4 Biblical Reasons Why Racism Is Irrational