Reading Time:
3
minutes
Hi, my name is Marvin Williams. Welcome to my blog.
I am a misfit, a ragamuffin, and an orphan who has been invited into the family of God by the unconditional grace of God.
I am the Lead Pastor of Trinity Church, where our mission is to make disciples by awakening people to full life with Christ.
I am an author and speaker for Our Daily Bread Ministries, whose mission is to make the life-changing wisdom of the Bible understandable and accessible to all.
What Can You Expect?
This blog is an attempt to be more intentional about motivating people to live the life that God has given them. Because time is limited, we should limit what we do with our time, making the most of every opportunity. God gives us twenty-four hours a day. He fills those hours with opportunities to love, trust and achieve all that he has for us. My mission is to help people like you to turn your limited minutes into significant moments.
I will write at this blog site 2-3 times a week, about culture, diversity, Jesus, life, leadership, and spiritual formation. I will write more and about other issues if I have something to say.
Subscribe to my e-mail list, and you will receive a monthly newsletter with new and exclusive content, "minutes into moments" tips, and two to three top posts for the month.
My Biography
My life is God calling. God called me to Himself through Jesus, and then he called me into ministry. I am presently living out my calling as Lead Pastor of Trinity Church in Lansing, Michigan, a faith community for sinners and misfits, who love Jesus and desire to grow in him. I have served the people of Trinity since February 2010. I am primarily responsible for teaching the Bible, where I champion inside-out living through the free grace of God.
Before being affirmed as the pastor of Trinity, God called me to be one of the lead architects of Tabernacle Community Church, a church that I helped to plant, along with Artie Lindsay and Kizombo Kalumbula. Among other pastoral responsibilities, I was the primary communicator and vision caster. I served the people of Tabernacle for over eight years.
Before planting Tabernacle Community Church, God called me to serve three years at Calvary Church, as an assistant preaching pastor under the leadership of Ed Dobson.
I am a graduate of Bishop College in Dallas, Texas, Trinity Evangelical Divinity School in Deerfield, Illinois, and Grand Rapids Theological Seminary in Grand Rapids, Michigan.
In addition to my ministry at Trinity Church, God has afforded me the privilege of being part of the Our Daily Bread Ministries family. I was a regular devotional author for Our Daily Bread and Our Daily Journey and was one of the Bible Teachers for Sports.org. Also, I am a contributor to Scott Williams' best-selling book, Church Diversity. I regularly speak at conferences, retreats, chapels and churches around the country.
My Family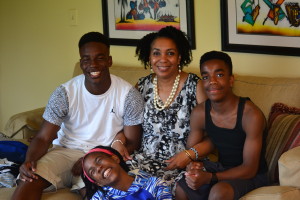 I am married to Tonia, the only woman who loves me deeply and unconditionally and helps me follow Jesus passionately. Her persistent prayers for me have helped Jesus be formed in my heart more entirely. Together, we have three children: Marvin Jr., Micah, and Mikayla. We live in Haslett, Michigan.