Reading Time:
4
minutes
The world is a cruel place. Hate abounds. The evidence of this hatred was never clearer Friday night in Portland, Oregon on the light-rail. Jeremy Joseph Christian, 35, is accused of and was arrested for stabbing three men who intervened when Christian allegedly yelled racial slurs at two teenage girls. This is the embodiment of hatred. How should we respond when we get a front seat to this kind of cruelty?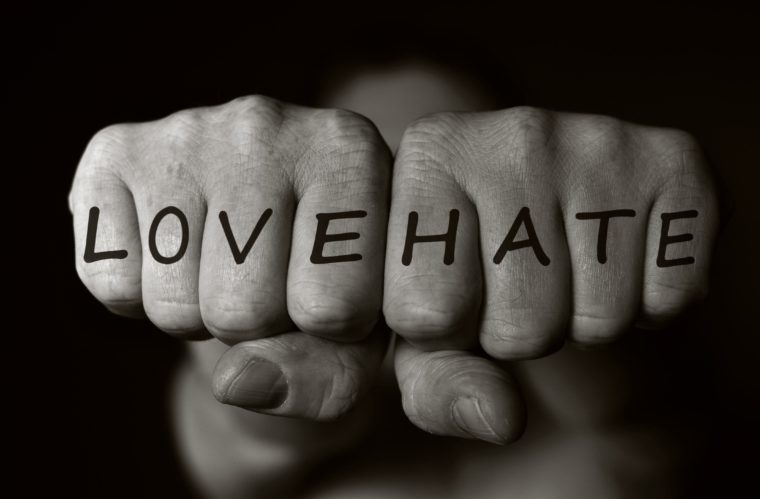 When a person's behavior deliberately inflicts pain and suffering on the weak and defenseless, they are cruel. Jeremy Joseph Christian fit this description to a tee. He is a cruel and hateful man. Plain and straightforward. For no reason, other than hatred, he terrorized two young teenage girls – one black and the other Muslim. But, Ricky John Best, 53, Taliesin Myrddin-Meche, 23, and Micah David-Cole Fletcher, decided it was time to silence racism and hatred. They went into action to defend the weak and defenseless, and Best and Meche lost their lives. So, should we get involved like these men? How should we respond when someone attempts to hurt the weak and defenseless?
Hatred Is Evidence of a Corrupt Nature
Our evil nature manifests evil actions (Romans 1:28-31; Galatians 5:19-20). We are not good people who occasionally do bad things; we are fundamentally bad people who occasionally do good things. If left unregenerated and unchecked, hatred and cruelty will become intense hatred and cruelty. People who have this kind of hatred and cruelty lie in wait, stirs up conflict, assaults, and kills – sometimes for no sensible or logical reason (Psalm 38:19). The world hated Jesus, and they will hate his followers (John 15:18). When we see this kind of hatred, then we know we are living in the last days or an era right before Jesus returns (Matthew 24:10). People like this need to be born again (John 3:5).
All We Can Do Is Pray
I know, with every tragedy in our world, other bloggers and I sound like a song on repeat. Pray. Pray. Though I feel like this is a common statement in light of this act of hatred, but I know when we pray, God does act. Praying doesn't mean passivity. Praying should lead us to action. More about this later in the post.
There was a woman who stayed with one of the young men who was stabbed, and reporters asked her what did she do as she sat with him. Her response was: "I prayed. All I could do was pray with and for him." All we can do is let these daily tragedies drive us further into the arms of a loving Father. So, pray for the families of the victims, the injured young man, the young women, and yes, the suspect.
Love People Filled With Hate
We overcome hatred with love – God love. In Luke 6:27-28, Jesus tells his followers to respond in four ways towards people filled with hate. He told his followers to love them. This is fighting for the highest good of the individual who does evil. Next, he tells his followers to do good to them – care and provide for them like we would our family. Third, he tells his followers to bless them – to speak well of them (find some positive to say about them). Finally, Jesus tells his followers to pray for them – ask God to intervene in their lives. The ultimate test of how close we are following Jesus is treating hatemongers like Jesus would treat them. So, we silence the voice of hatred with the louder voice of love.
Hate Evil
The Bible says that God hates (strongly dislikes) evil and wickedness (Psalm 5:4; Proverbs 6:16-19). For anyone who consistently practices these evil actions that cause dissension in the community of humanity, including hands that shed innocent blood, God renders a clear moral judgment against him or her. Because God has an intense dislike for these evils, we should imitate God and hate sin and wickedness as well (Psalm 97:10; Proverbs 8:13; Romans 12:9). Rather than winking at evil or ignoring it around us, we should ask God for a capacity to dislike the things he hates. Use the list in Proverbs 6:16-19. The more we hate evil, the more we will want for His kingdom to come and his will to be done on earth as it is in heaven.
Help the Weak and Defenseless
The hatred of evil will automatically lead to contributing to eradicating it from our communities and world. These men saw and heard evil speaking and attempted to silence it. I am not certain if these men were followers of Jesus, but they did what followers of Jesus would and should do. In fact, they did what any human being should do.
I know some will say that this was none of their business. Had the men not stood up, they might still be alive today. That might be true, but what if the suspect had killed the girls. These people might have died a thousand deaths over the duration of their lives – I wish I had the courage to stop the bully but was afraid I would get hurt or die. We have a responsibility to act and defend those who cannot defend themselves (2 Samuel 9:1; Luke10:30-36). As we defend the weak, let's ask God for wisdom for how we should protect and the right time to act (Later this week I will post what the Bible says about self-defense).
This Is What It Means to Be Human
Best, Meche and Fletcher are hailed as heroes. I understand why. But, I would assign them a higher honor; they are human beings. When you are part of the human race, you stand up for the weak and defenseless. They died because they were being human and trying to liberate the weak and defenseless. Yes, I know this is dangerous, especially in light of the present social climate. However, until Jesus returns, we are to fight racism, hatred, and cruelty, bringing UP THERE DOWN HERE, even if it cost us our lives.
How would you have responded if you were in a similar situation?
If you liked this post, you might like these posts as well:
4 Biblical Reasons Why Racism Is Irrational
A Prayer For a Racially Divided World