Reading Time:
6
minutes
Suicide! The very mention of the word stops conversations. It is one of the last taboo subjects in our culture. People taking their lives is on the rise in our culture, even among those who follow Jesus. Can believers in Jesus take their lives and still go to heaven? As followers of Jesus, how should we think about suicide? Is there a biblical perspective?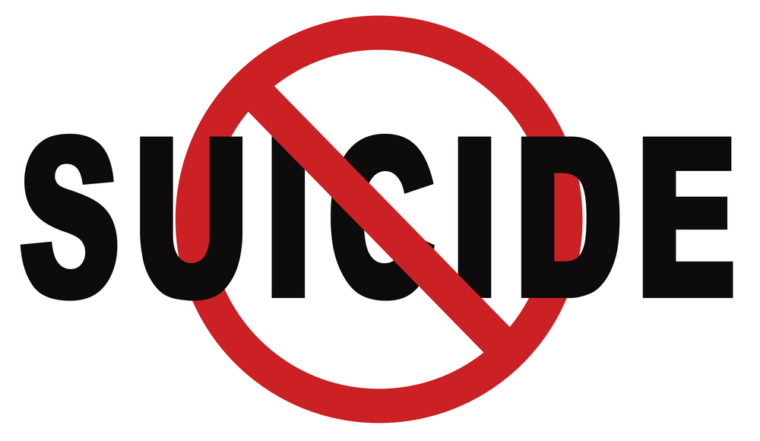 There is nothing more dark and disturbing as when someone takes her life. Many men and women live under the dark cloud of deep depression, and feel like taking their lives is the only way out of that dark pit.
Suicide Is on the Rise
According to national statistics, more than 30,000 Americans take their lives. This is a conservative number, as many suicides are not reported as such. Only 26% of people who commit suicide leave notes. According to the Center for Disease Control, suicide is the is the fourth leading cause of death among children aged 10-14, the third among young people aged 15-24, second among adults between the ages of 25-34, and the 11th leading cause of death in the United States. Each year 500,000 people attempt suicide, and millions more have suicidal thoughts.
What is Suicide?
Suicide is deliberately taking of one's life or causing another to take your life, regardless of motive, circumstance or method. I know the enemy of our souls uses depression, isolation, and desperation to cloud our judgment. He wants us to think that there is very little or no hope. He wants us to believe that life is not worth living. We know this is a lie from the pit of hell.
What Are Some Causes of Suicide?
We can see that suicide is on the rise. But, what are some reasons people decide to take their lives? Though this list is not exhaustive, it is a good biblical sampling of some of the reasons people takes their lives.
Guilt can lead to suicide. Guilt is a state of being at fault, often accompanied by feelings of being in the wrong. In Matthew 27:5, Judas experienced a high degree of guilt for betraying Jesus. His guilt overwhelmed and consumed him. Therefore, he killed himself. Yes, his crime deserved punishment, but a self-inflicted punishment was more than the crime deserved. Judas' guilt weighed him down so much that he felt it was bigger than the God who completely covers and forgives sin and guilt.
Defeat can lead to suicide. Defeat is when a person is overcome by a physical, spiritual or circumstantial enemy. In 1 Samuel 31:4-6, the Philistines defeated Saul and the Israelites, stripping Saul of his dignity and honor. His shame was unbearable. He asked his armor bearer to kill him before the Philistines could. When his armor bearer refused, Saul fell on his sword, taking his life.
Rejection can lead to suicide (2 Samuel 17:23). After Absalom had rejected his military counsel, Ahithophel went home to his city, set his house in order, and hanged himself.
Failure can lead to suicide (Acts 16:27). The Philippian jailer, after God miraculously released Paul and Silas from jail, was about to take his life. He was going to take his life because he failed at his job to secure the prisoners. Failing to secure the prisoners meant certain death for him. Instead of waiting for a Roman soldier to kill him, he planned to take his life.
Revenge can lead to suicide (Judges 16:21-31). Samson, in one last act of revenge, pushed down the columns and collapsed the building on all the people, including himself. This fits the category of suicide.
Satanic influence can lead to suicide (John 8:44). When we hear about someone committing, we should automatically conclude that darker forces are at work in that person's life. Satan hates life and was a murderer from the beginning. He will influence us with lies: "Life isn't worth living," "God doesn't care about you," "You are a failure and a loser," Your problems are bigger than the God you serve and pray to," Life and your family would be better off without you." These lies come from the very mouth of Satan.
Hating life and feeling insignificant can lead to suicide (Ecclesiastes 2:17; 4:1-3; Psalm 90:8-9).
Depression can lead to suicide. After Jezebel had put a hit out on his life, Elijah became depressed and wanted to die (1 Kings 19:3-4). Jeremiah and Jonah wished for death (Jeremiah 15:10; Jonah 4:1-3). These men had depressive feelings and overwhelming thoughts of suicide. Depression is probably the most common reason for suicide.
According to one scholar, suicide has a broad array of other motivations – rituals intended to preserve honor (such as Samurai suicides as a ritual admission of defeat), protests (such as self-starvation to protest war and oppression), escaping punishment, or avoiding pain because of terminal illness. Certain medicines can also lead to suicide. No matter the motivation, if a person deliberately takes her life or cause someone else to take his life, it is suicide.
Is Suicide Sin?
Now, we don't see a verse specifically prohibiting a person from taking his life. However, we can confidently say suicide is not part of God's will for anyone. I say this for several reasons:
Suicide usurps God's sovereignty over life. God is Creator. Thus, he has authority over life (Deuteronomy 32:29; Job 1:21).
Suicide is taking a life – even if it's your own – and taking a life is sin (Exodus 20:13).
Suicide violates the command to love ourselves (Leviticus 19:18; Matthew 22:39).
Suicide violates the command to love others (Matthew 7:12). I know some say that suicide is an act of love for family members and friends. However, leaving family members to pick up broken pieces, to deal with guilt and shame, and the utterly unbearable pain, can be viewed as a less than loving act toward others.
Can a Genuine Christian Commit Suicide?
If a person has a real relationship with Jesus, can they have depressive feelings that are so overwhelming that they might lead to suicide? Yes. I have done several funerals of men and women, who I knew, beyond the shadow of a doubt, that the gospel had transformed their lives. Though I don't know all of the reasons surrounding their deaths, I can say that there were darker forces influencing the depressive feelings that led to suicide. Satan hates life. He loves convincing people that life is hopeless, that their problems are bigger than God, and that the only way out is suicide.
What Happens to Christians Who Commits Suicide?
Do Christians, who commit suicide, go to heaven or hell? This is what everybody wants to know, right? Well, God is the ultimate judge. However, based on Scripture, we can draw some conclusions. Let Romans 8:35-39 wash over your heart:
Can anything ever separate us from Christ's love? Does it mean he no longer loves us if we have trouble or calamity, or are persecuted, or hungry, or destitute, or in danger, or threatened with death? (As the Scriptures say, "For your sake we are killed every day; we are being slaughtered like sheep.") No, despite all these things, overwhelming victory is ours through Christ, who loved us. And I am convinced that nothing can ever separate us from God's love. Neither death nor life, neither angels nor demons, neither our fears for today nor our worries about tomorrow—not even the powers of hell can separate us from God's love. No power in the sky above or in the earth below—indeed, nothing in all creation will ever be able to separate us from the love of God that is revealed in Christ Jesus our Lord.
Can suicide separate a believer from Christ's love? According to this passage, nothing, absolutely nothing, not even suicide, can separate the believer from Christ's love. Sometimes, depressive feelings cause us to relax our grip on Christ but know that Christ will never relax his grip on us. Our transformation is solely an act of grace. So, not even the act of suicide can dismantle what God has constructed in and through Christ.
The Message of Gospel
People attempt and sometimes succeed at committing suicide because they don't see life as full and hopeful. Instead, they see despair, hopelessness, pain, and desperation as their constant companions. If this is you, I want you to know that Jesus desires to meet you in the middle of your hopelessness and emptiness. The gospel is good news. The good news is Jesus lives, and he shares our pain. He died and has forgiven our guilt, sin, and shame. Jesus was raised from the dead, giving us new life. He is exalted. This means he will come back and make all things new, redeeming the pain and suffering.
Thus, this good news replaces the despair with hope, emptiness with God-ordained fullness. The gospel is the answer to the circumstances and feelings that drive a person to suicide. The message of the gospel awakens people to full life with Christ. With that said, the proper use of psychological and medical resources can help people get to a place of normalcy and where they can hear God tell them who he is and who they are.
Seeking Help and Being Help
Those who are discouraged and depressed should not walk alone. Part of our Christian responsibility is to walk through dark valleys of depression with family members and friends, intervening in appropriate ways.
If you are experiencing depressive feelings, please seek professional help, talk to your pastor, or tell a family member or friend. This doesn't mean you're weak or lack faith. In fact, admitting that there is a problem and seeking counsel is one of the bravest things you can do.
So, if you are battling suicidal thoughts, I want you to know that God loves you and that he can redeem the pain, the suffering, the depression, and the despair. But, if you know someone who is going through the valley of the shadow of death, then do what Christ did: enter into their pain and suffering and reflect the new and full life Christ promises.