Lord, Have Mercy!
Reading Time:
< 1
minute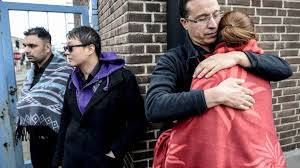 Lord, we awakened this morning, shaken by to another senseless bombing. This time the coordinated violence occurred in Brussels, Belgium. More than 30 killed and hundreds injured. This breaks my heart in so many ways.
Lord, I trust you, but I have to admit, I don't understand. I am baffled and disturbed by this event and others around the world. I have questions. Lots of them. I struggle to make sense of the sorrow, pain, and violence. I feel like my prayers aren't enough for what happened in Brussels today.
Lord, I need you to calm the quakes and stabilize the shifts. Yet, even in the wrestling, I will praise you. I will still believe you are a good God. I will trust you to make right this wrong and bring gospel redemption. I believe but help my unbelief.
So, in their darkness, pain, suffering, have mercy and be a refuge and strength and a very present help in this time of trouble.
Amen!