Reading Time:
4
minutes
If you believe that a task cannot be completed well without your involvement, that people can't make good decisions without your input, or that you work long and hard to make others dependent on you, it could say one or two things about you. You think everybody around you is incompetent. Or, you could be a control freak.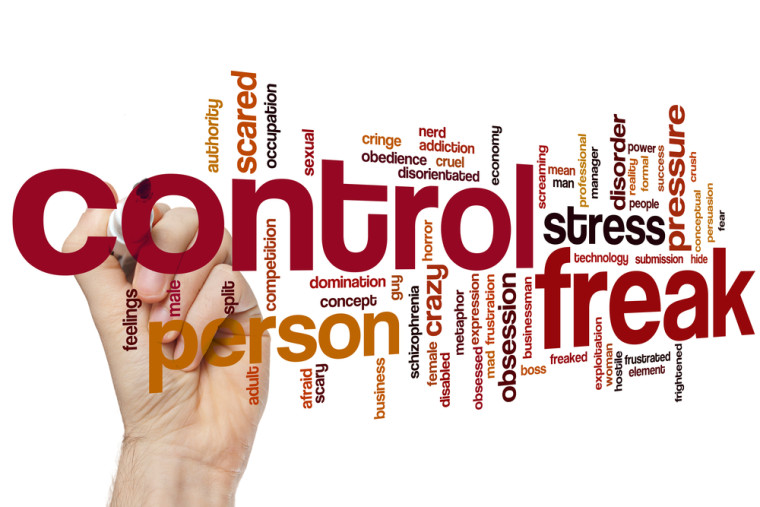 Control freaks can be difficult to live with, work for, and hang around. The insistence that things have to be done according to their rigid rules can be annoying, and difficult with which to live. How can you tell if you are a control freak or work for a control freak?
What is a control freak?
A control freak is anyone who feels the need to dictate how someone should think, feel and act. They do this by controlling your action either directly or indirectly. The interesting thing is, control freaks rarely see themselves as controlling. They live by strict rules, rituals and routines because they want to create a safe environment. They feel high levels of stress and anxiety when things and people are out of their control.
What are some common signs and characteristics of being a control freak? The following list is not exhaustive, but it does help us see the developing portrait of a control freak.
Common signs and characteristics of control freaks
Everything has to be your way
You come behind and fix everybody's mistakes
Things can't be done right unless you do it
You have difficulty cutting the apron springs
You will not trust anyone to get things done
You cannot receive constructive feedback from others, especially subordinates
You will not trust the judgment of others
You have to know about every detail of the project
You have to be the one to go to the bank, do grocery shopping, and drive everywhere
You piece-meal responsibilities to people
You are quick to point out flaws in other people and their work
You try to tell someone how to feel or how not to feel
You try to save everybody
You belittle others by making them feel incompetent
You do not let people fail
Your way is ALWAYS the right way
You do not delegate responsibilities
You constantly look over the shoulders of others
You blame others for failures and hog the credit for yourself
You get angry and yell if people don't do it your way
You suggest going to college with your child
You hijack every conversation with your opinion and don't listen to others
You don't allow others to talk and give feedback
The reasons why a person wants to control everything and everyone around them may vary. It could be because they grew up with controlling parents. Another reason could be because they are smart people and think they know everything about everything.
Some common results and consequences of being a control freak?
Whether you realize it or not, there are some real dangers and consequences of being a control freak. When we attempt to control everything and everybody, our actions can have a dark and negative affect on the people in our orbit. When you manifest the control freak in you, several things happen:
You create a fear-based culture.
You create a gossiping culture (people will say things about you that they won't say to you)
People feel the need always to be perfect.
People become insecure and anxious around you.
Creativity and innovation are stifled.
You lose good workers, ministry leaders, and friends.
People make up excuses to not be around you.
Your controlling nature alienate and divide people.
Overcoming being a control freak
Carefront the issue in your life. Spend time doing a spiritual inventory by asking God what is the root of this problem in my life. Admit that you are powerless to control the control freak in you.
Realize God is in control. Only God can control and change people. The more we let God be God, the less anxiety we will have and the need to feel like we have to control every situation.
Give people permission to give you honest feedback. Find people you trust and who love you enough, to be frank with you about your control issues and who will tell you when you are defaulting to being controlling. This person could be your spouse (if you're married), a friend, co-worker, your small group, or a professional counselor.
Submit your anxiety to the power of the Holy Spirit. When the Spirit is working in our lives, two of the characteristics he will produce are peace and self-control, the two traits that control freaks need most. Wake up each morning asking for the power to walk in the Spirit and not the flesh.
Relax. Rest, sleep and relaxation are acts of faith in the sovereignty of God. He is a good Father and will not give you a stone when you ask for bread. Trust his hand and his heart.
When you are feeling anxiety about wanting to control everything or not being in control, let this verse wash over your heart:
Don't worry about anything; instead, pray about everything. Tell God what you need, and thank him for all he has done. Then you will experience God's peace, which exceeds anything we can understand. His peace will guard your hearts and minds as you live in Christ Jesus. Philippians 4:6-7
Turn Your Minutes into Moments
Do you find these indicators to be true?
What are some other ways we can overcome the control freak in us?