Reading Time:
3
minutes
Everyone, I mean everyone, goes through tough times. Someone has said we have either left a tough time, are presently in the middle of a trial, or headed toward a tough time. The issue is not determining the nature of the trial, but what should our response be to these moments. So, how should we respond to tough times?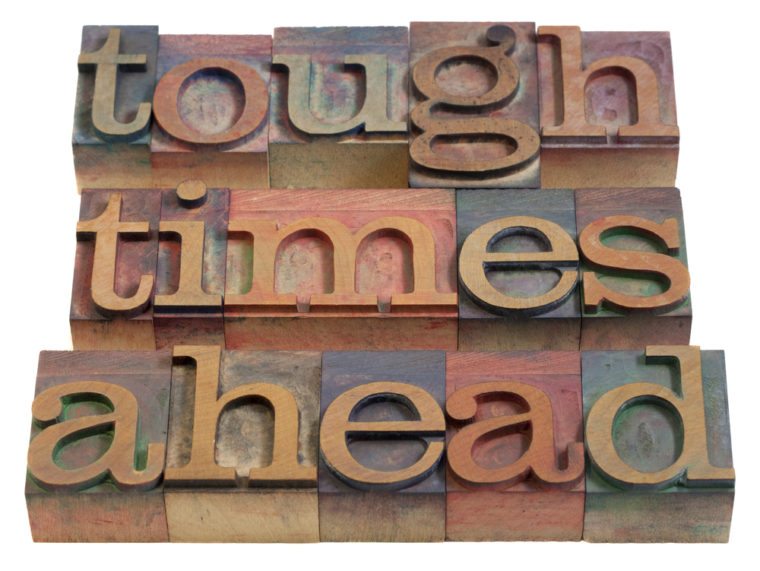 So, a couple of months ago our family went through tough times. First, Micah, my middle son, broke his foot and had to have surgery and be on crutches for ten weeks. Then, when I went to Kenya, a series of unfortunate events occurred. Our sump pump stopped working, and our entire basement flooded. So, we pulled up the carpet and tore off baseboards and doors. Next, Marvin Jr.'s car broke down three times. Finally, Tonia's computer stopped working two days before a major presentation to two hundred women. And, all of this happened within a few days of each other.
Consequently, I felt helpless. So, after I settled down a bit, I reminded myself of several powerful truths about God.
Truths About Our Father We Need to Remember
As you find yourself in middle of a storm or a tough time, let the following truths about our heavenly Father wash over your heart:
God is not a man, so he does not lie. He is not human, so he does not change his mind. Has he ever spoken and failed to act? Has he ever promised and not carried it through? Numbers 23:19
So if you sinful people know how to give good gifts to your children, how much more will your heavenly Father give good gifts to those who ask him. Matthew 7:11
He will do what he promised.
He was fully convinced that God is able to do whatever he promises. Romans 4:21
Nothing can separate you from God's love.
And I am convinced that nothing can ever separate us from God's love. Neither death nor life, neither angels nor demons,[a] neither our fears for today nor our worries about tomorrow—not even the powers of hell can separate us from God's love. 39 No power in the sky above or in the earth below—indeed, nothing in all creation will ever be able to separate us from the love of God that is revealed in Christ Jesus our Lord. Romans 8:38-39
I am Joseph, your brother, whom you sold into slavery in Egypt. It was God who sent me here ahead of you to preserve your lives. Genesis 45:4-5
So, the Lord was with Joseph, Genesis 39:2-3

But, the Lord was with Joseph in the prison … And the Lord made Joseph a favorite with the prison warden. Genesis 39:21
His mercy is new every morning.
The faithful love of the Lord never ends! His mercies never cease. Great is his faithfulness; his mercies begin afresh each morning. Lamentations 3:22-23
God understands your weaknesses
The Lord is like a father to his children, tender and compassionate to those who fear him. For he knows how weak we are; he remembers we are only dust. Psalm 103:13-14
God will bring good out of adversity and pain.
You intended to harm me, but God intended it all for good. He brought me to this position so I could save the lives of many people. Genesis 50:20
God's grace is enough for you.
Three different times I begged the Lord to take it away. Each time he said, "My grace is all you need. My power works best in weakness." So now I am glad to boast about my weaknesses, so that the power of Christ can work through me. 2 Corinthians 12:8-9
God has not forgotten you.
Then those who feared the Lord spoke with each other, and the Lord listened to what they said. In his presence, a scroll of remembrance was written to record the names of those who feared him and always thought about the honor of his name. Malachi 3:16
Everything I prophesied has come true, and now I will prophesy again. I will tell you the future before it happens. I saiah 42:9
God will never leave you nor forsake you.
For God has said, "I will never fail you. I will never abandon you." Hebrews 13:5
God cares about what happens to you.
Give all your worries and cares to God, for he cares about you. 1 Peter 5:7
He will always bring his mission to fruition.
You intended to harm me, but God intended it all for good. He brought me to this position so I could save the lives of many people. Genesis 50:20
Therefore, the next time you go through a tough time, rehearse these powerful truths about our heavenly Father. Consequently, you can not only make it through your tough times but thrive in the midst of them.
Remember, tough times don't last forever. Weeping may endure for a night, but joy comes in the morning. Moreover, God uses tough times to develop our character so we can look more like Jesus and be ready for anything that comes our way.
What other truths should we remember as we go through tough times?