Reading Time:
3
minutes
Last night, President Trump authorized air strikes on a Syrian air base. The attack sends a strong message to President Bashar Assad for the chemical attack earlier this week. But, how should Christians respond? Is there a biblical response to the events over the last few days?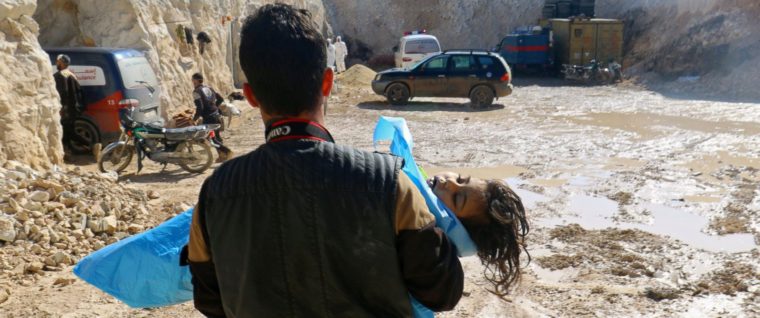 President Trump believed something needed to be done, in response to believing the Syrian government used chemical agents to kill innocent civilians. And, he did it. He authorized a military strike. Here is an excerpt from his remarks last night:
Tonight, I ordered a targeted military strike on the airfield in Syria from where the chemical attack was launched. It is in this vital national security interest of the United States to prevent and deter the spread and use of deadly chemical weapons.
Last night's attack is the first direct U.S. military action against an evil Assad regime. His government is responsible for the death and displacement of millions. The use of chemical agents on his people earlier this week broke an agreement Assad made in 2013. So, President Trump authorized last night's strike. The Syrian government called the attack an "act of aggression," and Vladimir Putin said the attacks have dealt a blow to U.S-Russian relations.
How should followers of Jesus respond to all of this? I believe we should respond in several important ways:
Pray. First, let's pray for the Syrians. These people, God's image-bearers, are experiencing countless atrocities under this government. Let's ask God to give them strength, comfort, perseverance, and continued resolve. Pray for Syrian Christians as they attempt to minister to all who are hurting. Second, let's ask God to give President Trump and our government wisdom as they respond (1 Timothy 2:2). Because there are so many opinions about what we should do, our President and his advisors need divine wisdom to understand the next steps and the unintended consequences of this conflict. Third, ask God to help us not to be indifferent to what's happening in Syria. If it is not happening in America, we have a tendency to not see it as our problem. Whenever human beings are suffering, we should all feel the pain and pray for them (Genesis 1:26; 1 Timothy 2:1). So, our first response is to pray.
Defend the weak and oppressed. As followers of Jesus, we have a duty to protect the weak and oppressed – in Syria and here in our country and our communities. When I saw images of innocent people, including children, gasping for breath, helpless and seizing, something broke in me. Something broke in me because image-bearers were suffering and dying. This is not the way it's supposed to be. Yes, we live in a broken and fallen world. God has left his people here to bring shalom. Our heavenly Father takes up the cause of the weak (Psalm 9:9; 82:3-4). So should we.
Seek justice. God created the world in justice and expects that his creatures will deal fairly and justly with one another as a result. Sin brings injustice into the world, by disrupting the justice established by God at creation.

Assad is evil and has obstructed and disrupted justice. We denounce his evil and unjust actions. His total disregard for human life cannot go unpunished. God commands justice (Psalm 56:1), commends the maintenance of justice (Psalm 106:3) and condemns the neglect of justice (Deuteronomy 27:19).

Support. It seems like we are helpless to do anything because we are worlds away from the conflict. This is not true. We can support organizations that serve Syrians. Last Christmas Eve our offering went to two mission organizations that served displaced Syrian women and children. As I was scrolling through tweets last night and this morning, someone suggested Preemptive Love Coalition as a good organization to support. This organization is doing phenomenal things in Syria. "They help refugees rebuild their lives and provide lifesaving medical care for children in conflict zones." If we can't give financially, maybe we can practically support Syrian families in our communities who have been affected by what's happening in Syria.

Refuse to overreact. As I was reading through FB posts and Tweets last night, many people were predicting that this is the beginning of WWIII and the apocalypse. We don't know this. This is an overreaction. Jesus said "don't worry about tomorrow, for tomorrow will bring it's on worries. Today's trouble is enough for today" (Matthew 6:34). So, please don't listen to the fear-mongers. Fear doesn't look right on the follower of Jesus. Instead of overreacting and living in fear, let's keep trusting God.
Jesus has called us to bring his love and shalom to our circles of influence, this includes Syria. As we prepare to celebrate Easter, let's not simply talk about Jesus being alive; let's demonstrate that he's alive in and through us.