Reading Time:
3
minutes
When we say we have an excruciating headache or excruciating pain coursing through our leg or lower back, do we really know what we are saying? I know what we are trying to say (I am not minimizing migraines and other significant pain), but I don't think we come close to experiencing what the word actually means.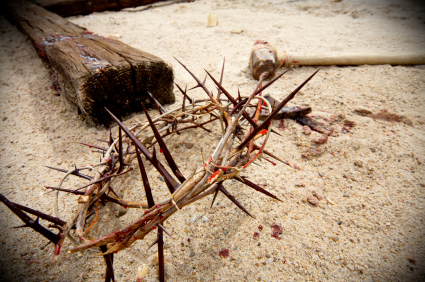 The word excruciating comes from a Latin compound, meaning pain like the pain of the cross or the pain like the pain of crucifixion.
Crucifixion was the most painful torture ever invented for the worst of criminals. It was probably invented by the Persians and perfected by the Romans. The Romans began using crucifixion around the time Jesus was born, and it was a punishment designed to inflict maximum pain and suffering. Crucifixion wasn't about killing someone; it was about killing someone in the most horrible and painful way possible.
What was Jesus' crucifixion like?
So, Jesus, our Leader and Lord, humbled himself in obedience to God, and literally experiencing excruciating pain and died a criminal's death on a cross.
He was PIERCED for our rebellion, CRUSHED for our sins, he was BEATEN so we could be whole. He was WHIPPED so we could be healed. So, we keep our eyes on Jesus, the champion who initiates and perfects our faith. Because of the joy awaiting him, he ENDURED THE CROSS , disregarding its shame. Now he is seated in the place of honor beside God's throne.
On this Holy and Sorrowful Friday, let's not simply gloss over… And they crucified Jesus, without giving thought to what those words really mean. When Jesus died, he went through an unimaginable amount of pain and suffering for us. The way he died – by crucifixion – reveals how messed up we really were and how much we needed rescuing. Take the time to reflect on and thank Jesus for enduring excruciating pain to bring us freedom.
Turn Your Minutes into Moments
How does the pain Jesus endured during his crucifixion put your pain into perspective?
What tangible way can you thank Jesus for all he endured for your freedom?