Reading Time:
4
minutes
At 12:47 a.m. on November 3, 2016, after an 8-7 win over the Cleveland Indians, ESPN Senior Writer, Jayson Stark said it was possible to write or say a sentence that no living human has ever written or said: The Chicago Cubs are the champions of baseball. I know baseball is just a game. But, can we learn some life and leadership lessons from the Cubs winning the World Series? When I look at the Cubs World Series run and win, I see five life lessons.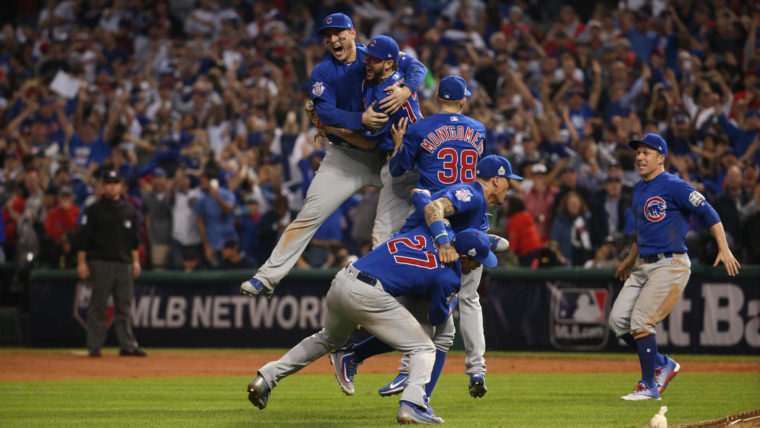 The drought is over. The desert has become an oasis. The goat has left the building. The Lovable Losers moniker is dead. Jack Brickhouse is somewhere saying Hey! Hey! Harry Carey is slurring Cubs Win! Cubs Win! Yeah, after 108 years, the Cubs are champions of baseball. Yes, I am aware that baseball is just a game. But, I think we can learn a lot about life and leadership from the Darlings of the Northside winning the 2016 World Series.
Have a plan.
Theo Epstein, the President of Baseball Operations for the Cubs, is arguably the greatest baseball executive in modern baseball. He did the tough. Twice. When he arrived in 2011, he told the Cubs to be patient because he had a plan. That plan was to take a team with a history of failure, despair, and incompetence, and make them winners.
In the last five years, he did just that. He combined young and patient hitters, passionate and precocious infielders with still hungry veterans. Then, he brought in an eccentric and out of the box thinking manager. Consequently, he had all the puzzle pieces. Every player was there for a reason. They were part of the master plan. A plan to not only win the World Series but to build a perennially winning team. He had a vision for the future. Epstein saw a team, and he developed that team. And, that team won the 2016 World Series. Therefore, I think it is safe to say that his place in Cooperstown is secure.
What is your plan for accomplishing your goals? Do you want to lose weight? Get out of debt? Finish your education? Begin a business? Go deeper with God? Success is never accidental. So, we need a plan to accomplish our goals. It should be a plan that honors God and it submitted to his sovereign hand (Proverbs 16:1-3).
Success is a process.
Several months ago, I made a decision to 20 pounds. My coach helped me with a plan that was suitable for me. During the first couple weeks, I didn't notice anything different. I got a little frustrated and impatient. My coach kept telling me to trust the process. About the third week, I started seeing progress. I had been thinking too much about the outcome rather than trusting the process.
Success doesn't happen overnight. You can't microwave success. Failures, setbacks, hard work, persistence, and a lot of faith are the primary ingredients for success.
If you have a plan, and it is a good and effective one, you have only to trust the process and not let the outcome consume you. Are you trusting the process to accomplish your goals? Be patient. Persevere through tough times. Get back up after you fail. Push through the quitting points. Live in the moment. Become comfortable with discomfort. In short, trust the process and let God worry about the outcomes.
Adversity is the best path to maturity and success.
It has been 108 years of failure, despair, and incompetence. The mantra was: "Maybe next year." In 2003, the Cubbies came close, but Bartman became the scapegoat (No pun intended). Then last year the Cubs made it to the playoffs, but the Mets swept them. People blamed the loss on inexperience. Being swept was devastating. The setback disappointed the Cubs and their fans. Everyone thought last year was the year the century-long wandering in the desert would be over. Nope. They would have to wait another year.
However, all of this adversity tested their mettle and perseverance. The perennial failure and despair helped the Cubs to develop the character for this breakthrough season. Comfort is the quickest path to laziness and entitlement. Adversity contributes to the development of character, endurance, and an indomitable spirit. James, in so many words, encouraged believers, who were living under the weight of trials for their faith, with similar words (James 1:3-4).
Have you been looking at adversity as a foe instead of a friend? Your setback is God's setup for greater maturity and success. Embrace the adverse circumstances in your life, and let God used them to develop character. When you do, you will be ready for anything that comes your way.
Have fun along the way.
John Madden, the Cubs manager, said: "Never let the pressure exceed the pleasure." Enjoying the game has always been part of Madden map to success. And, the Cubs seemed to live by this mantra all year long. They had a onesies pajama party on the plane after a 1-0 loss to the Dodgers. The loss didn't get them down. It seems no loss dampened their spirits this year. Even when they were down 3-1, they never panicked. Joe Madden kept them loose and confident. They didn't play like there was a 108-year gorilla on their backs; they played with the passion, fun, and joy of 12-year old little leaguers.
What about you? On your way to your goals, have you let the pressure exceed the pleasure? If you have, I encourage you to start having fun again. Return to the moment when you did what you did, not for a paycheck or status, but for the pure, unadulterated joy of it.
Hope is powerful.
Hope is the confident expectation for a better outcome in the future. With each losing season, there seemed to always be the confident expectation that Cubs would be better next and finally deliver that all elusive World Series to the city of Chicago. Each year disappointment deferred the dream. Yet, no matter how horrible the season was, there was always next year. This confident expectation is what kept fans coming back to historic Wrigley Field and motivated them to endure harsh temperatures, stand on Waverly Avenue, sit on rooftops, paint their bodies and don the Lovable Losers jerseys and hats. That's hope!
What about us. Do we have a confident expectation that God will give us a better tomorrow? No matter how difficult the circumstances, hope motivates us to keep waiting, persevering and expecting something better. Hope uses disappointment as fuel to voyage into a better tomorrow. Our present circumstances don't define or determine our future possibilities. So, hope in God, the One who knows your future and has a plan for it.
Yeah, I know baseball is just a game. But, because all truth is God's truth, I think if we look close enough, God can teach us a great deal about himself and life from this amazing game.
What other life lessons can you learn from the Cubs winning the 2016 World Series?
Which one of the lessons above resonates with you the most?